Shadowrun: Toyota Corona Pickup - Ranger Special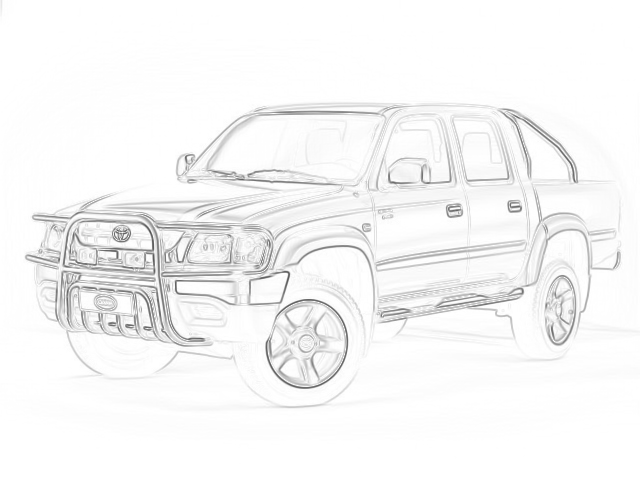 Toyota is proud to present the newest version of out multi purpose Corona pickup, one of the most widly used pickups of the world. After intense testing and user feedback from South Africa, Ethiopia, India, Norwege, Native American Nations, and Amazonia, we build the ultimate ranger transportation. No car is better at finding smugglers, getting anywhere fast with heavy equipment, making tours of weeks on end, and still get out in working order.
Get you staff what they need,
Get them a Toyota Corona RS
>>>>>>[ Do you know where they use it? (South) Africa, India, and a few in the far East. The rest of the world prefers drones, which are a hell of a lot cheaper. ]<<<<<<

VCR-4 04:57:02 19-06-2054
---
>>>>>>[ Drones need stable bases with good tech support, this baby needs diesel fuel and somebody who can weld in case of extreme problems. Supprise why they use it in africa. I've been on 'hunting' expeditions in A and it's a great vehicle, except for the damn tires. ]<<<<<<


BushMaster 08:46:34 19-06-2054
---
>>>>>>[ He! I can replace tires! ]<<<<<<


Wienee 08:46:35 19-06-2054
---
>>>>>>[ It is not the tires. It is the whole wheel. It is just not up to real off-road work. The rest will keep on working, but those tires! ]<<<<<<


BushMaster 09:12:04 19-06-2054
---
>>>>>>[ Replace them with wheels from the Crystler DeerHunter. Yes that means fixing an imperial wheel on a metric axle, but it works like a charm if you have a well equiped shop. The DeerHunter is a heavy instable fuel guzler, but the wheels are a-okay. ]<<<<<<


Tinker 09:18:07 19-06-2054
---
>>>>>>[ You can hardly tell the difference between normal Corona and (most) RS models. This makes it just right for certain people. ]<<<<<<


Shadow --:--:-- 01-23-4567
Features
This is only a part of what the RS can offer, and customization is always possible:
The standard Corona HL frame. Yes we consider this the best feature. Tested for several years in the most adverse conditions, we know that it will not break down. The frame includes APPS, so we are sure that you won't break down either.
State of the art sensors, which include low-yield (20km max) radar, sophisticated pattern analysis, spectrum includes IR and UV, close-range ultrasound scanning and more.
Hybrid Synergy® drive: using a fuel efficient (fully filtered) diesel engine, combined with a silent Mach6* electrical drive powering (and steering) four wheels
Patrol range of more than 1600 kilometers and we aren't even using the batteries of your electric drive.
CMC: all vulnerable parts are doubled (sometimes even tripled!), so that no single point of failure is possible.

Standard (factory build) options are:
Standard and Heavy armor package. The standard armor will allow the car to drive on without any problems even after several rifle hits, while the heavy armor package will just ignore them. Both armor packages can be hidden (at a slight surcharge) so that opponents can not tell if the encounter a standard RS of an RS-A2h.
Extended cabin with either a double bench seat or twin beds with mini kitchen†
Rigger interface
Remote interface (Rigger interface is mandatory)
Advanced Amphibian mode
Passenger seat hatch with ring mount.
>>>>>>[ 1000 miles isn't that impressive. Then again, just use jerrycans. The mini kitchen is okay if you want to eat, but god forbid if you have got a passenger expecting a 5 course meal. The remote interface is a life saver when you and your passenger have been tracking an awakened critter on foot for half an hour, and you still want to have you car, pronto. ]<<<<<<

BushMaster 09:22:20 19-06-2054
---
>>>>>>[ Although it is not a factory option (Toyota design is still japanese), the passenger seat can be easily upgraded to allow for trolls. The driver position has not enough room for that, unless you do some serious modification. ]<<<<<<


Tinker 09:24:07 19-06-2054
---
>>>>>>[ Advanced Amphibian mode, phah! It is just a basic screw. And the doors are not sealed, so you will get wet if you stay in to long. ]<<<<<<


VCR-4 09:30:32 19-06-2054
---
>>>>>>[ Sealing will only take a day or so, and, unless you have the shotgun option, gas sealing is pretty easy too. ]<<<<<<


Tinker 09:36:44 19-06-2054
---
>>>>>>[ Toyota has 50 years of experience with hybrid engines and it shows. Even the SOTA electrics 'just work', but if you use it a lot, do pay attention to your maintenance. The CMC is dangerous for inexperienced drivers: if you don't pay attention to your telltales, one minute your racing along the savanah and next minute your car is a crashed wreck. ]<<<<<<


BushMaster 09:42:59 19-06-2054
Availability
Available to all B3 licensed security firms.

Pricing starts at 400.000¥

>>>>>>[ Cool, where do I buy one? ]<<<<<<


Wienee 08:46:35 19-06-2054
---
>>>>>>[ RTFM Wienee, B3 licenced firms only. That (officially) means B+ corps, or C+ sec-corps. A little lower with the right credentials does work, but it is a no go for Joe Public. ]<<<<<<


BushMaster 12:33:12 19-06-2054
---
* The Mach6, used on Executive luxury car, uses rare-earth magnets, computer controlled Variable Transmission, and super-conductive coils for optimum efficiency and power.
† This will reduce the load and space by xxx



















Chassis
Handling 4/6, Body 4, CF 18
60
+ Handling
Handling 4/3
75
+ CF
1CF a 5pts
0
Diesel
Speed 120, Accel 7, Load 1000, Sig 2, Eco 5, Fuel 80
35
+ Speed
+80 => 200
160
+ Eco
*1.8 = 9
70
+ Accel
Accel 12
10
+ Load
+250 = 1250
25
+ Fuel
+100 => 180, CF-2
200
Electric
Speed 40, Accel 2, load 350, Sig 5, Eco 0.25, Fuel 200
15
+ Speed
+40 => 80
80
+ Eco
-
0
+ Accel
Accel 5
6
+ Load
+900 = 1250
90
+ Fuel
+100 => 200
40
+ Supercharge
*2 => Speed 140
50
Signature improvement
+1
200
CMC-3
0
Sensors-6
0
Rollbar & APPS
0
Optional
Living Amenities, spartan
2 cramped bunks and mini fridge
60
SunCell
100PF / hour
5
Rigger Interface
0
Remote Adaption
0
Amphibian-2
0
Concealed Armor-9
Weight
0
Total
0